Residents who live near large blue-green algae blooms are at a higher risk to develop fatal nonalcoholic liver diseases than those who don't, according to a study from Ohio State University.
Cyanobacteria blooms, such as the one last summer in Martin, Lee, Palm Beach and St. Lucie counties that prompted a state of emergency, contain the toxins microcystin, nodularin and anatoxin, which might cause deadly liver diseases, according to the findings. The scientists found 65 "clusters" across the country where a significant tie between cyanobacteria blooms and fatal liver diseases could be determined, the study also said.
The study did not, however, declare a direct tie between the blooms and fatal liver disease; co-author Jiyoung Lee told the Treasure Coast Palm there'd need to be another study to declare a direct tie between the two.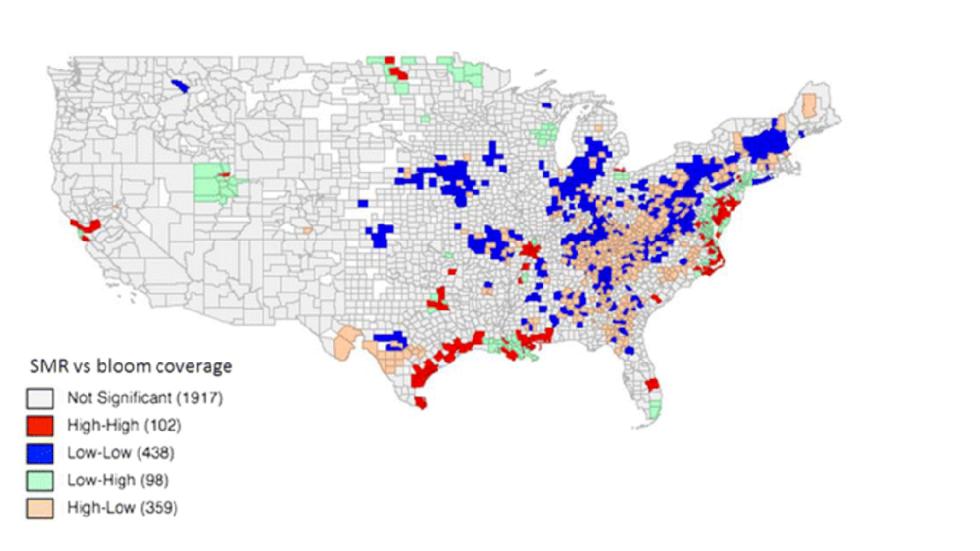 For those who live close to these blooms, there are a number of ways the toxins can enter the body. Dr. Edie Widder with the Ocean Research and Conversation Association told WPTV.com touching the algae is dangerous, but so is inhalation of the toxins. There's also a chance the cyanobacteria blooms could make it into irrigation water, which could pollute the food and water supply, Widder also said.
Some residents, like Betty Swyryn, who has lived near the water for decades, told WPTV they've stopped going near the water.
"I couldn't even let them play in the sand because I was afraid of the toxins," she said, referring to her grandchildren.
While the problem is far from Florida's alone – other large clusters can be seen along the East and Gulf coasts in the map above – those who live near the cluster in the Sunshine State are eager to learn if there's a definitive tie between the algae blooms and liver disease.
"It's shocking that there's only one of these clusters in Florida — and it's us," Widder told the Treasure Coast Palm. "Remember how seeing that a lot of people who smoked developed cancer led to the discovery that smoking causes cancer? We don't want to end up 20 years from now with lots of folks with liver disease on the Treasure Coast because we ignored the warning signs."
Source: The Weather Channel, Full Story